What Is HappyTenant?
HappyTenant is a revolutionary property management system with a powerful web portal and 4 separate mobile apps for each stakeholder, creating a seamless digital journey, bringing transparency & efficiency to the property management experience.
HappyManager - An integrated web portal for the property manager
HappyTenant - A mobile app for tenants
HappyLandlord - A mobile app for landlords
HappyMaintenance - A mobile app for maintenance team/vendors
HappySnaglist- A mobile app for Inspection
Who Uses HappyTenant?
A complete solution for property managers, landlords, and vendors to effectively manage their portfolio for all property types - residential, commercial, student housing, or warehouse.
Where can HappyTenant be deployed?
Cloud, SaaS, Web-based, Mac (Desktop), Windows (Desktop), Linux (Desktop), Windows (On-Premise), Linux (On-Premise), Chromebook (Desktop), Android (Mobile), iPhone (Mobile), iPad (Mobile)
About the vendor
HappyTenant
Phone Support
Languages
Arabic, Chinese, English, French
About the vendor
HappyTenant
Phone Support
Languages
Arabic, Chinese, English, French
HappyTenant videos and images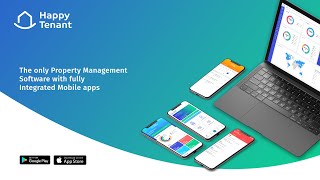 Compare HappyTenant pricing with similar products
Features of HappyTenant
Accounting
Add & Edit Photos
Alerts/Notifications
Billing & Invoicing
Calendar Management
Comment Library
Commercial Property Management Software
Completion Tracking
Contact Management
Contract Drafting
Contract Lifecycle Management
Contract/License Management
Customizable Reports
Document Management
Electronic Signature
Event Management
Faculty/Staff Management
Financial Management
Financial Reporting
For Commercial Real Estate
For Property Managers
Full Text Search
Inspection Management
Job Management
Late Fee Calculation
Lease Management
Lease Tracking
Maintenance Management
Mobile Access
Mobile App
Online Payments
Payment Processing
Portfolio Management
Pre-built Templates
Preventive Maintenance
Property Database
Property Management
Report Summary
Reporting & Statistics
Reporting/Analytics
Residential Inspections
Scheduling
Technician Management
Templates
Tenant Portal
Tenant Tracking
Third Party Integrations
Transaction Monitoring
Vacancy Management
Website Management
Work Order Creation
Work Order Management
Alternatives to HappyTenant
Sharon O.
Administration Executive in United Arab Emirates
Real Estate, 11-50 Employees
Used the Software for: 2+ years
Value For Money
Comments: Overall satisfied
Pros:
If you are looking for a way to the time you spend on making reports and tracking transactions e.t.c by 95% then this is the app for you.
Cons:
I have nothing but good things to say about happytenant but if I had to choose one thing I would really like it if the names of tenants who have already vacated apartments/owners who left because they sold apartments/employees who've left the company could be removed from the main pages/moved to a general archive that would be amazing.
Tawakalitu adeola S.
Property Manager in United Arab Emirates
Real Estate, 11-50 Employees
Used the Software for: 1-5 months
Alternatives Considered:
Great Property Management Software
Pros:
We like the renewal and cheque deposition reminders sent to tenants. Also Owner's received notification of cheque clearance. Owners and Tenants can easily view their statements on the moblie apps which boost transparency and trust. Integrating our accounting system has not been easy and we are hoping to work with HappyTenant on this.
Cons:
I believe HappyTenant does improve their services frequently which is a great thing. However we will love to see HappyTenant integrating more products into their system so that it will be more effective. For new users, the HappyTenant customer care department should also visit at least once a quarter to see how the usage is going and suggest/advise other features that can be utilized
Manuela V.
managing director in United Arab Emirates
Real Estate, 2-10 Employees
Used the Software for: 6-12 months
property management
Comments: overal is good the team is responsive even if sometimes the answer is that the feature is not yet implemented like having 2 owners for the same properties ( you know sometimes there is 2 joint owners for the same property )
Pros:
the daily summary helps me to track which contracts are due/upcoming and same for the payments due . Generate contracts, set up inspections, keep track of each expenses/income for my clients and for the business .
Cons:
it would be great / implement for example a more accurate statement for the landlord which is taking in consideration even partial income to him/ the company. ~For example right now I can only choose at the starting of a lease if the money is held by company or landlord. But in the reality of sometimes the rent is paid to the landlord sometimes to the company or for example I can't show that maybe 2 installment were uncashed already by the landlord when I took this contract onboard but the remaining will be with me. In fact at the moment in those situations the statement is useless as is not reflecting the real money held/encashed it shows just the overall income which is confusing for me and for the landlord as well.
Aitolkyn D.
Property Management director in United Arab Emirates
Real Estate, 51-200 Employees
Used the Software for: 1-5 months
Happy Tenant App. review
Pros:
The application is user friendly but some features need improvement.
Cons:
Limited access for the account entered although your role is already administrator/manger. There's always a room of improvement.