15 years helping Australian businesses
choose better software
Local product
What Is Weel?
Weel is Australia's leading spend management solution, helping finance teams to save time, increase reporting compliance and prevent overspending across all expenditure.
Our instant virtual cards and mobile reimbursement tools make it easy for businesses to stay on top businesses and travel expenses in real time. Our smart software captures details such as spend category, GST, attendees and many customer requirements as funds are being spent — helping keep reporting up to date in real time.
Who Uses Weel?
Our customers are finance teams wanting to streamline and operationalise spend management in their medium sized business. We're most popular with trade businesses, aged care, NDIS and NFPs.
Where can Weel be deployed?
Cloud-based
On-premises
---
Countries available
Australia
Weel pricing
Starting Price:
$119.00/month
Weel offers a free trial. Weel paid version starts at $119.00/month.
Countries available
Australia
Weel videos and images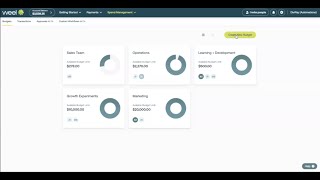 Features of Weel
Approval Process Control
Approval Workflow
Audit Trail
Budgeting/Forecasting
Categorisation/Grouping
Corporate Card
Data Extraction
Electronic Funds Transfer
Expense Tracking
Invoice Processing
Mobile Receipt Upload
Receipt Management
Reimbursement Management
Reporting & Statistics
Search/Filter
Spend Control
Third Party Integrations
Vendor Management
Sylvette
Accountant in Australia
Education Management, 51–200 Employees
Used the Software for: 1+ year
Reviewer Source
I wish I have known Divipay before!
Comments: Overall experience with Divipay is very good. The expenses are very well integrated with my Accounts Payable software.
Pros:
It is very important for me to attach invoices to all expenses. What I like most with Divipay is, the users of the card have to attach the invoice themselves by simply taking photos. It also has the ability for the users to put the description, account to use, category to use, and project to use. All I do as an Accountant is to check whether the accounts used are correct.
Cons:
My only concern with the product is the top up that I think is very late to come. I asked that a top up of $5k be transferred to our account when the balance goes below $7,500. I would like the topped up amount to be transferred as soon as possible as there is a reason why it is needed that badly.
Alternatives Considered: Expensify
Reasons for Switching to Weel: I have used Expensify in the company I previously worked for before Toongabbie Christian College. I did not find it very user friendly and is not integrating well with my accounting software.
Daniel
Financial accountant in Australia
Real Estate, 51–200 Employees
Used the Software for: 6-12 months
Reviewer Source
An easy to use corporate credit card solution
Comments: Divipay has helped us move away from laborious expense claims that employees had to manually fill in. We are saving time and employees are satisfied now that they do not need to spend their own money and wait for us to pay them back.
Pros:
The feature I like most is direct integration with third party accounting software. It makes reconciliation of the card so quick and easy, and no time is spent on importing transactions and coding them. It is all sent through the Divipay system
Cons:
I would appreciate slightly better filtering of the transaction listing
Alternatives Considered: SAP Concur and Zoho Expense
Reasons for Switching to Weel: The great sales pitch provided to us in our introductory session!
Julie
State Manager - Finance in Australia
Individual & Family Services, 11–50 Employees
Used the Software for: 1+ year
Reviewer Source
Not enough
Comments: The system is a good idea and the integration with QBO is good, but if there is no support, the software is constantly crashing, and no one is available outside of hours to help correct the issues, then it's just not good enough.
Pros:
Integration with our finance software was the only feature that we found good.
Cons:
Please note, we have left this software and have our subscription only open while we finalise data for financial audit. We have moved to another program. Lack of support, response times poor, no support available outside of business hours, lack of understanding about issues being experienced, cost.
Weel Response
last year
Hi Julie Thank you for taking the time to leave a review, and we're sorry that you have not had the experience with DiviPay that we aim to deliver. While we know it can be frustrating when things don't work as you would expect, we are concerned to hear that you felt like DiviPay was constantly crashing, as this is not something we have heard from any of our other customers. We pride ourselves on having an up-time of above 99%, so we would love to get to the bottom of what might have gone wrong. As our support team are all based here in Australia, we do offer limited support outside of business hours. However, we also are pleased to share that most enquiries are resolved in under 6 hours. For more complex requests that require developer assistance, this can take a little longer to resolve it sounds like you may have fallen into this category, for which we apologise for the inconvenience. All the best, The DiviPay team
Peter
Business Support & Human Resources in Australia
Computer & Network Security, 51–200 Employees
Used the Software for: 1+ year
Reviewer Source
The Pro's & Con's of Divipay for a growing business whose staff travel ... a lot
Comments: Overall, Willyama has had a positive experience using the Divipay application. With multiple staff travelling across a geographical environment as large as that encompassing Moscow to Lisbon, Copenhagen to Monaco, every working week, access to the account keeping, cash provision and proof of purchase services provided by Divipay is why WIllyama continues to be a customer.
Pros:
The ease of account setting in Divipay is a real plus. So too is the ability to account to government and tax-payers what expenses we, as a private company undertaking work for government, have accrued. Proof of expense is a relatively seamless process with Divipay
Cons:
The software has shortcomings. Firstly, it is not yet optimised for use on a standard mobile phone screen. Characters limitations are a problem. Secondly, downloading and reconciling accounts requires some double-handling in terms of editing downloaded products. Finally, the delays in funds transfer - in one instance, six working days - to active accounts can be a problem. But, these short-comings can be worked around and the myriad advantages of using Divipay is why Willyama continues to be a customer.
Information Technology & Services, 51–200 Employees
Used the Software for: 1+ year
Reviewer Source
Love it
Pros:
It's just the best! You're able to pay at stores, you can have a max per card so you get notified each time some subscriptions try to charge more and you can easily delete cards that are not relevant anymore. Customer support is amazing too, they help straight away! Thank you 🙏
Cons:
Not all softwares accept pre paid cards such as divipay so sometime is a bit painful to find a solution around that.
Alternatives Considered: Airwallex