Local product
What Is Upflowy?
Upflowy is a no-code SaaS product that gives you complete control of your signup flow. Design, tell your brand story, analyse each data point and then optimise for success.
You'll be able to measure instantly and at every point, with actionable insights and instant funnel analytics. When optimising, you're able to define smart experiments with A/B testing and personalisation capabilities that are easy to set up.
Who Uses Upflowy?
Not provided by vendor
Where can Upflowy be deployed?
Cloud, SaaS, Web-based
Countries available
Australia
Upflowy pricing
Starting Price:
USD 15.00/month
Yes, has free trial
Yes, has free version
Upflowy has a free version and offers a free trial. Upflowy paid version starts at USD 15.00/month.
Pricing plans
get a free trial
Countries available
Australia
Upflowy videos and images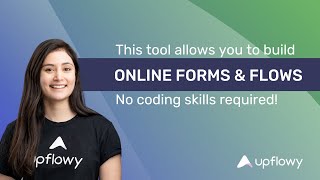 Features of Upflowy
AB Testing
Drag & Drop
Forms Management
Third Party Integrations
Nick N.
COO in Australia
Verified LinkedIn User
Information Technology & Services, 11-50 Employees
Used the Software for: 1-5 months
Great no-code signup flow
Pros:
Super easy to build form flow and integrate it to the existing infrastructure.
Cons:
I'd prefer to have more pre-crafted templates as Upflowy could be used in some cases that I did not think about.
Benjamin B.
COO in Australia
Consumer Services, 2-10 Employees
Used the Software for: 6-12 months
Very flexible software to build all kinds of user flows. Great for iterating and learning fast.
Comments: I use Upflowy for my onboarding flow, to be able to tailor the experience of my first-time users.
Pros:
Very quick to build and iterate and good quality flows and visuals, and ability to integrate to third parties to re-use the data collected.
Cons:
It gets a little difficult to manage when the flow are very complex.
Alternatives Considered: Appcues and Intercom
Reasons for Switching to Upflowy: Main reason is it's more flexible, Upflowy is the only tool that properly allows to capture data during my onboarding. The flows are also visually better-looking with minimal effort. The responsiveness of the support team and ability to help me achieve my needs is exceptional.
Sky D.
Product Manager in Israel
Accounting, 2-10 Employees
Used the Software for: Free Trial
10min and you are ready to collect data.
Pros:
- It's defnitly easy to use - You can create, deesign and release a form in no time.
Cons:
I would want more granular design options. (The current options are nice and should be a good fit for most of the organizations)
Dan R.
Principal in Australia
Computer Software, 2-10 Employees
Used the Software for: 1-5 months
Feeling the Frictionless Flow
Pros:
I worked at a legacy AB testing software provider for six years. Though we were the market leader, a simple signup flow test took nearly as much effort as a massive personalisation algorithm test. Most tests at most companies are usually top of funnel sign up and campaign efficacy tests and EVERY.SINGLE.ONE. of our customers wanted to just spin up a quick test. Upflowy is the first product that actually delivers on a no-code, super easy sign-up flow test.
Cons:
In the early days of the product release, several key features were missing which definitely slowed things down. However, all the product gaps that I identified with their first release have since been filled and there isn't anything major that I would want changed.
Alternatives Considered: Dynamic Yield, Optimizely, AB Tasty and VWO Testing
Reasons for Switching to Upflowy: Upflowy is so easy to use. If you just want to create quick and easy customer acquisition flows with no fuss and easy results, there isn't a better option. Especially at this price point!
Dan S.
Founder in Australia
Marketing & Advertising, Self Employed
Used the Software for: 6-12 months
A great audience qualifier
Comments: The main goal that I have been looking to tackle has been to better qualify people who signup with the various tech startups I work with. We want ensure we drive quality signups, focusing on activation as a key metric and Upflowy's data collection and qualification conditional logic have been incredibly helpful to achieve higher activation rates.
Pros:
Upflowy was exactly what I was looking for as a growth marketer with the SaaS startups I work with. I've been looking for a qualifying solution that can help me with retaining potential leads that we acquire, as well as properly nurture through personalised onboarding. This has always been an area of weakness with the startups I work with until I started using this tool. I've also enjoyed the rapid iteration process, being able to see the problematic steps and quickly editing them or removing them completely.
Cons:
The UX of the platform is still in its infancy and there are elements that aren't very intuitive for a user. I've been seeing the updates within the product, and I imagine it will only be a matter of time before these issues are corrected.