15 years helping Australian businesses
choose better software
What Is Access Mintsoft?
Access Mintsoft is a cloud-based warehouse, inventory, courier and E-commerce order management solution, created for 3PLs, warehouses, wholesalers, fulfilment houses and online retailers.
Access Mintsoft automates the process of picking, packing and shipping, ensuring your orders are more accurate and efficient than ever.
With over 175 courier and online shopping platform integrations and powerful reporting, Access Mintsoft increases productivity and efficiency for business growth.
Who Uses Access Mintsoft?
Ecommerce businesses Online retailers Fulfilment houses 3PLs (3rd party logistics) Wholesalers
Where can Access Mintsoft be deployed?
Cloud-based
On-premises
---
About the vendor
The Access Group
Located in Colchester, UK
Founded in 1996
Access Mintsoft pricing
Starting Price:
About the vendor
The Access Group
Located in Colchester, UK
Founded in 1996
Access Mintsoft videos and images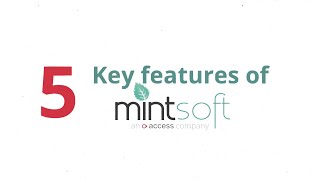 Features of Access Mintsoft
3PL Management
Alerts/Notifications
Backorder Management
Barcode/Ticket Scanning
Barcoding/RFID
Billing & Invoicing
Cataloguing/Categorisation
Contact Database
Inventory Control
Inventory Management
Inventory Optimization
Kitting
Multi-Location
Order Entry
Order Fulfillment
Order Management
Order Tracking
Product Identification
Purchase Order Management
Purchasing & Receiving
Real Time Data
Receiving/Putaway Management
Recurring Orders
Reporting/Analytics
Returns Management
Search/Filter
Shipping Management
Third Party Integrations
Warehouse Management
Alternatives to Access Mintsoft
Reviews of Access Mintsoft
James
Director in UK
Verified LinkedIn User
Marketing & Advertising, 2–10 Employees
Used the Software for: 1-5 months
Reviewer Source
Saved a lot of time, very useful!
Comments: the streamline order and warehouse management solution has been invaluable
Pros:
Inventory tracking has been next level. Very happy!
Cons:
It took a bit of work to get setup with our team, not an issue though.
Mack
Director in Australia
Warehousing, 11–50 Employees
Used the Software for: 2+ years
Reviewer Source
Lifesaving software
Comments: Everything has been great. I really don't have any complaints. Mintsoft is awesome.
Pros:
Favourite feature is definitely the pick/pack. The steps are so easy to follow and means we can process orders extremely fast.
Cons:
Nothing. The software, in all aspects, works as it should and has been designed to be user friendly.
Alternatives Considered: ShipHero
Reasons for Switching to Access Mintsoft: Familiar with the software. Shiphero probably would have been "easier" as it's catered to the AU market, however it was lacking some features that Mintsoft had, and after a short discussion with the Mintsoft team it was apparent that they were willing to help get their product ready/usable for the AU market. So glad I went with Mintsoft.
Retail, 11–50 Employees
Used the Software for: 6-12 months
Reviewer Source
Source: SoftwareAdvice
Basics thing they cannot resolve what they will do business.
Comments: It is the Worst ever, poor WHMS
Pros:
I did not like any of the feature after using in real, marketer influence you, but real working is different than demo ones. Please be aware to go for this system especially in WHMS.
Cons:
Cannot manage inventory sync, basic UI functionality missing, 0 for ease of use and interaction with software.
Amy
director in Singapore
Retail, 2–10 Employees
Used the Software for: 1+ year
Reviewer Source
Long Contracts, 200% price increases and poor customer service
Comments: Poor wouldn't recommend it for any small business.
Pros:
Inventory sync, but not the only one to provide
Cons:
Not much, plenty more inventory sync softwares. They just rely on you forgetting to cancel and getting tied in to lengthy year long contracts. Not ideas for anyone who isn't enterprise size. Bewarned.