What Is QAD?
QAD Adaptive ERP is a comprehensive, flexible solution for global manufacturers. It addresses their core manufacturing, supply chain, financials, customer and service management and enterprise asset management business process needs. Running on the QAD Enterprise Platform, QAD Adaptive ERP simplifies extending the solution to meet a manufacturer's changing business needs. The Adaptive UX provides a modern, intuitive Web and mobile user experience with embedded analytics and reporting.
Who Uses QAD?
Designed for manufacturers in the automotive, life sciences, industrial, consumer products, food and beverage and high-tech markets.
Where can QAD be deployed?
Cloud, SaaS, Web-based, Mac (Desktop), Windows (Desktop), Linux (Desktop), Chromebook (Desktop), Android (Mobile), iPhone (Mobile), iPad (Mobile)
About the vendor
by QAD
Located in Cardiff-by-the-Sea, US
Founded in 1985
Phone Support
24/7 (Live rep)
Chat
Languages
English, French, Italian, Spanish
About the vendor
by QAD
Located in Cardiff-by-the-Sea, US
Founded in 1985
Phone Support
24/7 (Live rep)
Chat
Languages
English, French, Italian, Spanish
QAD videos and images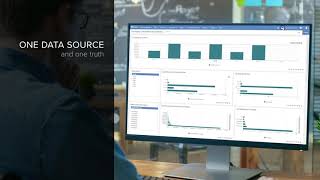 Compare QAD pricing with similar products
Starting price
N/A
N/A
USD 20.00/month
USD 499.00/month
Jarosław J.
Business/ERP Analyst in
Electrical/Electronic Manufacturing, 201-500 Employees
Used the Software for: 2+ years
Source: SoftwareAdvice
If you are manufacturing you can do it even better with QAD!
Comments: QAD is the software which needs to be considered seriously when its about manufacturing.
Pros:
ERP from QAD (in the past MFG/Pro) is providing great MRP functionality for more than 20 years now. Today this strong MRP is supported, surrounded and integrated with all key modern ERP features and functionalities. It will do its best to support you production processes but will be as well great tool to help you in finance/accounting and logistics.
Cons:
If you would like to imagine an ERP software which can support every business in every process, it does not exist (yet?). QAD is for manufacturers and some distribution companies of right size (medium and big). For some processed maybe you will find even better support with external applications (like Advanced Production Planning, Product Life Management, Shop Floor Control). Theirs functionality will be integrated to QAD and you can decide what you really need.
Verified Reviewer
Equipment and Shipping Specialist in US
Verified LinkedIn User
51-200 Employees
Used the Software for: 2+ years
My experience with QAD has been positive. While it is not visually appealing, it gets the job done.
Comments: Simple, quick, and easy to train new employees. It has made moving inventory very easy.
Pros:
It is a no nonsense software that can be edited to run the exact reports you are looking for. Once trained it is very easy to use. It also runs very fast. We use it to ship our customer orders so if the software stops, the money stops, and it has been very dependable for the last few years.
Cons:
It's not pretty, sometimes the screen can look a little busy when you're only using one field. There are no indications when you have reached the end of your flow through so when you are training it can be difficult to know when you've completed your task.
Verified Reviewer
Director of IT in US
Verified LinkedIn User
Medical Devices, 51-200 Employees
Used the Software for: 1+ year
In two words: Stay away!
Comments: I am guessing that QAD was developed by 1000 developers with 1 week experience each and no architect whatsoever. What qualifies me to say that? 1. I have been a software architect/developer/integrator since 1983. (!)
2. I have experience with other ERP systems, accounting software, warehouse management, and manufacturing software.
3. I never wrote a review on any product or software but in this case I feel it is my duty to warn people.
If you are in the market for ERP, this is not one you should consider.
4. If someone from QAD would bother to ask me, I can back up with evidence and unresolved support tickets, these claims and many other issues users are facing.
Pros:
I can't think of anything. Sorry. QAD failed in every criteria: value, technology, User Interface, feature list...
Cons:
Nothing is trivial or intuitive. A lot of room for confusion. Lacks basic functions such as consignment RMA (It is handled as a negative quantity sale) Some basic features are considered add-ons and require additional annual licensing fee. The program looks and feels like it came with a time machine from 1985. The screens are based on a 80 character by 20 line display and you will be hitting Next, Next, Next buttons constantly because of that. Sometimes you have to 'Back' a few times as part of the normal operation procedure. Some field sizes are 8 character (username) or 24 character (product description) because, I suspect, the program was developed around the year 1980. Some functions (For example importing a report design), will cause the system to hang forever and require a restart. Error message look like this: "Error: 90101" - And good luck to you figuring it out.
Verified Reviewer
Member "Committee To Safeguard Impartiality" in US
Verified LinkedIn User
Management Consulting, 201-500 Employees
Used the Software for: 2+ years
Once you are set up in QAD, and you have the correct modules and access, it is easy to use.
Comments: The ability to review, analyze, and report on questions regarding inventory, parts availability, and work in process. This information allows me to staff appropriately by making sure I have people in place where they are needed.
Pros:
What I like the most about this software is the ability to review and dissect information regarding incoming parts, inventory, WIP, finished goods and even product that has already shipped.
Cons:
We are sharing this software package with another site and this prevents us from making any changes to improve efficiency and/or streamline the process.
Jennifer M.
Junior Accountant in US
Used the Software for: 2+ years
There's a lot of steps to processing items for finance, but it gets easier with time
Pros:
I like how it gets easier to use with time. Running a financial takes seconds when you input the desired information in the queries.
Cons:
I only use the Finance and Accounting category in the system. I heard it's not the most user-friendly software for finance and I 100% can attest to that. it takes a lot of steps to do a simple thing and if you make a mistake, you have to input twice as much time to fix it. I wish there was a cheat sheet to know the functions.